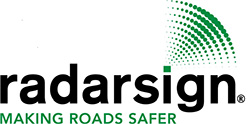 Radarsign's Safety in a Box™ is a complete radar speed sign solution.
This all inclusive sign package has everything needed for installation except the shovel and the concrete. All that is required is digging a hole, pouring the concrete, and installing the sign. It's that easy.
> Radar Speed Sign Options
12" LED Display /
TC-500
- White
12" LED Display /
TC-500
- Yellow/Green Flourescent
17" LED Display /
TC-1000
- Yellow/Green Flourescent
> Power Options
AC Power
Solar Panel - 40 Watt
Solar Panel - 65 Watt
* Some options are avilable at additional cost.
> Safety in a Box™ Bundle:
Radar speed sign w/ LED display (12" or 17")
YOUR SPEED faceplate, in white or yellow/green flourescent
Choice of power supply - AC Power, 40 watt or 65 Watt solar panel with mounting bracket
All hardware needed to mount the radar sign and solar panel on a pole
Regulatory speed limit sign
Sign extender bracket for the regulatory speed limit sign
11' aluminum pole with breakaway base and pole cap (optional black decorative pole is available)
Concrete form for the pole base and anchor bolts (aluminum pole only)
Armored Bashplate™ provides the most effective vandal protection on the market today
Bluetooth® wireless operation from your laptop PC
StreetSmart Data Collection software
2 year warranty on parts and labor, including batteries
> Information Download
> Viewing Distance Chart

More than traffic calming, Radarsigns® are traffic analysis tools too!
All Radarsign® models come with built-in data-logging capability. Every sign can record up to one years worth of traffic data statistics. This includes time stamped number of vehicles and their speed as they pass by. Using the StreetSmart software you can do complete statistical analysis of these traffic patterns.
That is great, but the radar signs can also operate in STEALTH mode. ie. all the operational lights are off, making drivers assume the sign is not operational. Therefore their natural driving habits can be continuously recorded
With Stealth and Regular mode operations, you can easily gather before and after vehicle statistics of the location being analyzed. You can determine the day of the week and time of day when most people speed and more. By comparing stealth and operational data sets, you can prove for yourself that radar signs can be effective at reducing vehicle speed by more than 12% (based on customer feedback)
Learn more about the StreetSmart PC app. There is an extra charge for the software but makes the radar sign infinitely more valuable.
For more information on this product, please visit the StreetSmart page.