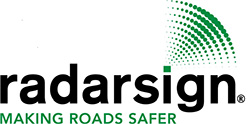 School Zone Safety System
Make your school zone safer with a School Zone Safety System
Each component in the School Zone Safety System combo was designed to meet the highest quality standards, withstand the toughest weather, and provide a reliable method of slowing traffic. The School Zone Safety System is more effective than stand-alone flashing beacons because of the physiological response of drivers to the radar speed sign displaying their actual speed. Because the sign flashes the driver's speed as they approach it, the driver is forced into an active state of awareness of how fast they are driving, resulting in increased speed limit compliance.
> This safety system includes:
AC powered or solar powered radar speed sign
AC or solar powered flashing beacons
Yellow fluorescent YOUR SPEED faceplate for the radar speed sign
StreetSmart data collection and reporting software
* Some options are avilable at additional cost.
> Features
The radar speed sign with this system is available in two LED display sizes:


The beacon systems available are single or dual beacon systems in front, top, and side mount configurations
Provides maximum visibility with yellow/green fluorescent YOUR SPEED faceplate
The system arrives 90% assembled and is quick and easy to install.
Reduced operating costs – Entire system works from a single power source on a single pole.
Energy efficient design means a smaller solar panel and battery are used ensuring continuous operation with battery backup of up to 10 days.
> Information Download
> School Zone Traffic Calming Guide
More than traffic calming, Radarsigns® are traffic analysis tools too!
All Radarsign® models come with built-in data-logging capability. Every sign can record up to one years worth of traffic data statistics. This includes time stamped number of vehicles and their speed as they pass by. Using the StreetSmart software you can do complete statistical analysis of these traffic patterns.
That is great, but the radar signs can also operate in STEALTH mode. ie. all the operational lights are off, making drivers assume the sign is not operational. Therefore their natural driving habits can be continuously recorded
With Stealth and Regular mode operations, you can easily gather before and after vehicle statistics of the location being analyzed. You can determine the day of the week and time of day when most people speed and more. By comparing stealth and operational data sets, you can prove for yourself that radar signs can be effective at reducing vehicle speed by more than 12% (based on customer feedback)
Learn more about the StreetSmart PC app. There is an extra charge for the software but makes the radar sign infinitely more valuable.
For more information on this product, please visit the StreetSmart page.