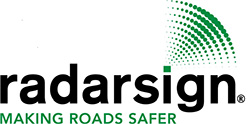 Radar-on-the-GO Trailer Hitch Mount System
Featuring the TC-400 a battery powered radar speed sign offering the ultimate in portable traffic calming. Using a new modular design, and built with the legendary quality standards that Radarsign is known for, the TC-400 is lightweight, easy to install, extremely durable and affordably priced.
The radar speed sign trailer hitch allows you to take your radar speed sign to targeted locations where traffic calming is needed on a temporary basis such as:
Highway & Road Crews
Traffic Maintenance Personnel
Public Works Professionals
Construction Workers
Special Events Staff & Spectators
The Radar-on-the-Go system uses the
TC-400
radar speed sign.
> Radar-on-the-GO Features
Maximum portability. Hitch can be removed in 15 seconds
Armored construction, weather tight, vandal resistant and bullet resistant
Maintenance free
Eliminates the need for a trailer at 1/2 the cost
Extended battery life. Radar speed sign will operate up to 2+ weeks on a single charge with optional internal battery backup
Easy to store in most police trunks
Requires 12 volt supply
> Information Download
> Viewing Distance Chart

More than traffic calming, Radarsigns® are traffic analysis tools too!
All Radarsign® models come with built-in data-logging capability. Every sign can record up to one years worth of traffic data statistics. This includes time stamped number of vehicles and their speed as they pass by. Using the StreetSmart software you can do complete statistical analysis of these traffic patterns.
That is great, but the radar signs can also operate in STEALTH mode. ie. all the operational lights are off, making drivers assume the sign is not operational. Therefore their natural driving habits can be continuously recorded
With Stealth and Regular mode operations, you can easily gather before and after vehicle statistics of the location being analyzed. You can determine the day of the week and time of day when most people speed and more. By comparing stealth and operational data sets, you can prove for yourself that radar signs can be effective at reducing vehicle speed by more than 12% (based on customer feedback)
Learn more about the StreetSmart PC app. There is an extra charge for the software but makes the radar sign infinitely more valuable.
For more information on this product, please visit the StreetSmart page.