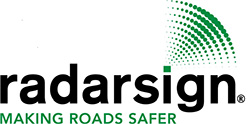 The TC-500 is an 12" LED display speed radar sign.
Radarsign's built for purpose design is the most vandal resistant radar speed sign on the market today.
> Faceplate Options
24" W x 21" H - White
24" W x 21" H - Yellow/Green Flourescent
24" W x 26" H - White
24" W x 26" H - Yellow/Green Flourescent
> Power Options
AC Power
Solar Panel - 40 Watt
Solar Panel - 65 Watt
* Some options are avilable at additional cost.
> Durable Design:
Heavy-duty aircraft aluminum housing with an armored 3/8" thick Bashplate™ and 1/4" Lexan cover provide superior protection to the internal components of the radar speed sign from external force and weather.

Beveled design of the 3/8" Bashplate protects LEDS and internal components from damage by dissipating force inflicted on the sign.
> Exceptional visibility
Directional beam technology delivers a superior quality display for drivers, even in bright sunlight. Radarsign's proprietary design serves as a cone, magnifying the intensity of the light, and pinpoints it directly to the view of approaching drivers.
> Speed Alert
The driver speed will flash within the programmed speed range. Display on-off feature allows traffic data collection to continue even when the display is off (stealth mode).

Delay option to alert speeders above posted speed limit.
> Faceplate
12" LED display with a 24"w x 26"h YOUR SPEED faceplate with 4" high lettering; Available in white, fluorescent yellow, or safety orange.
> Power Supply
Available as a AC powered unit or as a Solar Powered unit (40 Watt or 65 Watt Panel)
> Design Standards
NEMA 4R level compliant; MUTCD compliant colors and reflectivity; Abrasion resistant, shatter resistant, UV resistant, and graffiti resistant.
> Batteries
Batteries are designed to slide into housing slots without any danger of movement; Maintenance is limited to battery changes every three to six years.
> Radar
Detects vehicles up to 1200 feet away.
> Bluetooth® Communication
Allows secure wireless operation of radar speed sign and data collection directly to laptop from the comfort of a nearby vehicle.
> Warranty
Two year warranty on parts and labor, including batteries; Does not cover malicious abuse, theft, or damage due to unauthorized modification.
> Ideal for
15KPH to 60KPH zones
> Information Download
> Viewing Distance Chart

More than traffic calming, Radarsigns® are traffic analysis tools too!
All Radarsign® models come with built-in data-logging capability. Every sign can record up to one years worth of traffic data statistics. This includes time stamped number of vehicles and their speed as they pass by. Using the StreetSmart software you can do complete statistical analysis of these traffic patterns.
That is great, but the radar signs can also operate in STEALTH mode. ie. all the operational lights are off, making drivers assume the sign is not operational. Therefore their natural driving habits can be continuously recorded
With Stealth and Regular mode operations, you can easily gather before and after vehicle statistics of the location being analyzed. You can determine the day of the week and time of day when most people speed and more. By comparing stealth and operational data sets, you can prove for yourself that radar signs can be effective at reducing vehicle speed by more than 12% (based on customer feedback)
Learn more about the StreetSmart PC app. There is an extra charge for the software but makes the radar sign infinitely more valuable.
For more information on this product, please visit the StreetSmart page.