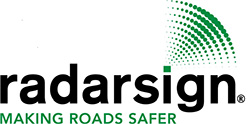 The TC-400 is a battery powered radar speed sign offering the ultimate in portable traffic calming.
Using a new modular design, and built with the legendary quality standards that Radarsign is known for, the TC-400 is lightweight, easy to install, extremely durable and affordably priced.
> Lightweight
Radar speed sign weighs only 9 kg
> Modular Design
The new modular design of the radar speed sign along with the mounting technology of Radarsign's GoBracket make mounting and un-mounting the sign a quick, easy process. One person can easily install or relocate the TC-400 in about a minute.
> Field exchangeable battery packs
Runs for +/- 2 weeks on two fully charged battery packs. Modular design allows the battery packs to be easily swapped in the field for the extended use of the sign in a location.
> Affordable
The TC-400 is a portable system that allows a single radar speed sign to be used in multiple locations making it a valuable investment for any community, police department, or business.
Target problem speeding areas in neighborhoods, private communities, school zones and corporate campuses, work and construction zones
A great alternative to speed trailers at less than half the cost; can be used in many locations where a speed trailer will not fit or would be unsafe
Seasonal applications such as back to school, summer tourist, holiday shopping
Anywhere a short term use is desired
> Durable
.25" thick protective sheet covers entire display area
Abrasion, graffiti and shatter resistant
UV protection
> Exceptional visibility
28 cm super bright amber LEDs with directional beam technology focus light toward the road; automatically adjusts to ambient light conditions, providing the highest quality viewable display with minimum energy usage. Easily readable up to 400 feet.
> Faceplate
2 digits, 11″ high super bright amber LEDs (life up to 100,000 hours) with directional beam technology; Available in white, fluorescent yellow, or safety orange
> Radar
Detects vehicles up to 1200 feet
> Wi-Fi Enabled
Allows access to program signs from most web enabled devices (Apple devices, Android devices, Windows devices, etc.)
Requires no proprietary or custom software to operate
WPA2 encrypted security
Password protection
Range of up to 300 feet from sign
> Warranty
Two year warranty on parts and labor; One year on battery packs. Does not cover malicious abuse, theft, or damage due to unauthorized modification.
> Traffic Data Option
Radar speed sign records traffic data that can be used to confirm date, time, and severity of speeding problem. Requires optional Streetsmart software license to generate charts and graphs.
> Information Download
More than traffic calming, Radarsigns® are traffic analysis tools too!
All Radarsign® models come with built-in data-logging capability. Every sign can record up to one years worth of traffic data statistics. This includes time stamped number of vehicles and their speed as they pass by. Using the StreetSmart software you can do complete statistical analysis of these traffic patterns.
That is great, but the radar signs can also operate in STEALTH mode. ie. all the operational lights are off, making drivers assume the sign is not operational. Therefore their natural driving habits can be continuously recorded
With Stealth and Regular mode operations, you can easily gather before and after vehicle statistics of the location being analyzed. You can determine the day of the week and time of day when most people speed and more. By comparing stealth and operational data sets, you can prove for yourself that radar signs can be effective at reducing vehicle speed by more than 12% (based on customer feedback)
Learn more about the StreetSmart PC app. There is an extra charge for the software but makes the radar sign infinitely more valuable.
For more information on this product, please visit the StreetSmart page.
Available for Purchase or Rental from Hi Signs: