When do you require FIRE EXTINGUISHER INSIDE stickers on fleet vehicles?
The Traffic Safety Act sets the requirements for Fire Extinguishers in the 100 page document, Commercial Vehicle Safety Regulation (CVSR). We've included an overview below to make things easy for you.
Many companies, such as most Upstream Oil & Gas companies, and many industrial construction companies have specific safety policies pertaining to the mandatory safety equipment required onboard commercial vehicles working on-site where explosions, fires or chemicals are present. Carrying a certified fire extinguisher increases the safety of the public and workers by having it readily available and accessible in the event of an emergency. Although your commercial vehicle might not require a fire extinguisher under the Traffic Safety Act regulations, specific employers may make them a mandatory requirement on thier jobsites which could supersede the CVSR regulations. It's important to check with your employers safety manager and safety policies. Regardless, if a certified fire extinguisher is in a vehicle it is a good idea to add decals to the vehicle to notify workers and the public where they can access one if needed.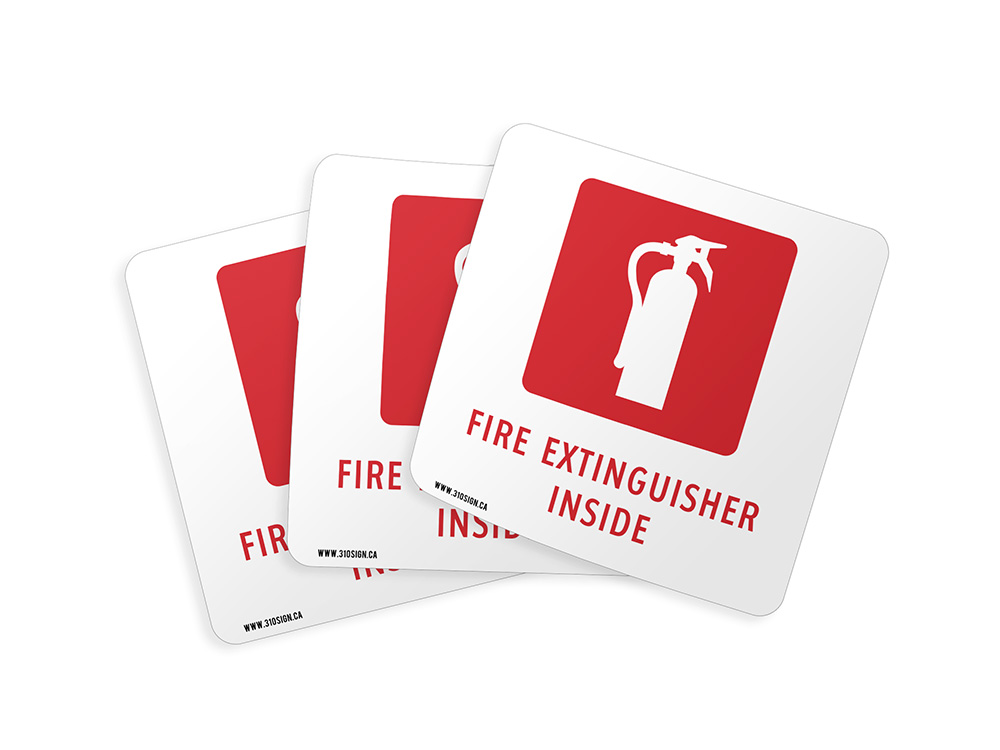 What types of commercial vehicles apply under CVSR?
5(1) In this section and in section 6 and Schedule 2, "commercial
vehicle" means
(a) a commercial vehicle or a combination of commercial
vehicles that is registered for a gross weight of more than
4500 kilograms and that is not a bus, or
(b) a bus.
Fire Extinguisher Requirements (as per CVSR)?
17(1) A bus/vehicle shall not be operated unless the bus/vehicle carries at least
one fire extinguisher.
(2) At least one fire extinguisher carried on a bus must
(a) in the case of a bus that is not a school bus, be marked and
rated not less than 2A:10B:C by the manufacturer of the
fire extinguisher in accordance with the procedures for
testing and rating fire extinguishers set out in
CAN-ULC-S508-M, and
(b) in the case of a school bus, meet the requirements of the
version of CSA Standard D250 applicable at the time of
manufacture of the school bus.
(3) Where a fire extinguisher required under subsection (1)
(a) is of a stored pressure design, it must be equipped with a
pressure gauge or indicator that shows whether or not the
fire extinguisher is fully charged, or
(b) is of a cartridge operated design, the design must permit,
without the use of special tools, visual inspection of
(i) the gas cartridge seal to see that it is intact, and
(ii) the agent container to see that it is fully charged.
(4) A fire extinguisher required under subsection (1) must be
(a) in a charged condition,
(b) located in the forward end or near the entrance door of
the vehicle so that it is readily accessible to the driver of
the vehicle, and
(c) mounted
(i) in a bracket that has a quick release retaining band,
and
(ii) in a manner so that the fire extinguisher is prevented
from falling out due to the movements of the vehicle.
When do you require Fire Extinguisher Inside labels on your vehicle?
(5) If a fire extinguisher required under subsection (1) is stored in
a compartment, that compartment must
(a) display the words "FIRE EXTINGUISHER INSIDE" in
letters that are
(i) at least 25 millimetres in height, and
(ii) in a colour that contrasts with the background on
which the words are displayed,
and
(b) not be locked or require special tools to open it at any time.
>> FIND FIRE EXTINGUISHER INSIDE LABELS
If you have questions regarding fleet vehicle graphics or require customization, please contact us and we would be happy to help!
--
If you require further clarifcation or information on this subject we encourgage you to review the regulation in full detail. Although we provide our best effort to remain informed on regulations, they can often change. As such, this article is an overview and should not be considered a regulated source of information.