A muster point (also known as 'Assembly Point') is an assembly point where everyone meets in the event of an emergency. Muster Point is primarily a Canadian term. Muster point signs indicate the exact location of the assembly area. They are required by many safety associations. Reflective materials are encouraged for increased visibility. Buy muster point signs here!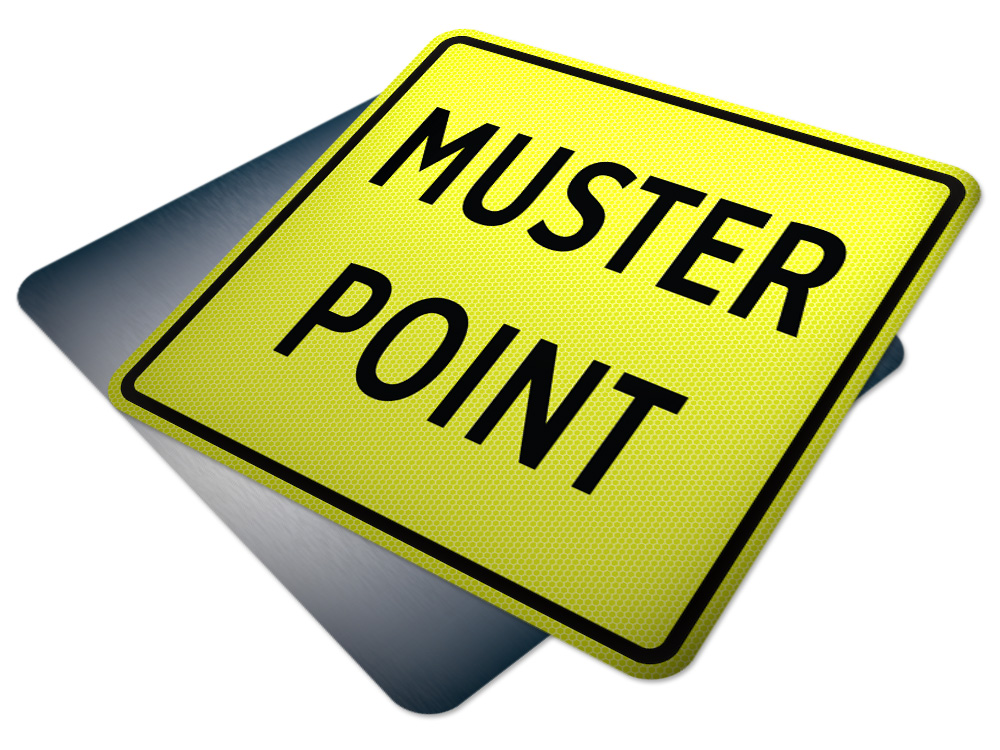 Signage installation should be a safe distance away from a building, worksite or construction zone. Making a muster point known to all employees and visitors is part of a rigorous emergency management plan. Multiple muster points may be required at large jobsites which contain many visitors or employees, such as Muster Point "A" or "B", or Muster Point 1, 2 & 3. If the emergency exit route is complex it is a good idea to place directional signage towards the assembly area.
Placement of a muster point sign can vary, however, it is important to ensure the signage is placed within optimal viewing range for your applicatoin (not too small). Typical mounting is between 48" to 72" off the ground or over 96" when mounting in parking lots where vehicles may obstruct the view of the signage.
How far should a muster point be from a building?
Muster area distance from a building is a frequently asked question. Being that each company and work site has a wide range of safety factors, there is no correct answer that would apply to all situations. However, there are guidelines you can follow when choosing your placement. Some muster points may be required on job sites where no buildings are present, such as a remote work location. It's important to place your muster area a safe distance away from your building/work zone in the event a fire or explosion occurs at your work site. Depending on the type of your work, you may need to increase the distance away from the potential hazard, espeically where chemicals or explosive materials may be present.
Many worksites contain multiple companies working at a single jobsite. Some companies choose to add a logo to the muster point sign to signify that companies specific assembly location for emergencies.